About Julie of California
For over 40 years, Julie of California has provided the award & speciality advertising industry with unique products for recognition programs that reward the excellence of individuals and groups. These programs, used by corporations, government, social organizations, and private individuals include organizational identity, outstanding achievement, exceptional sales, years of loyal service, retirement memento, and many other special events.
As a long time recognized leader throughout the industry for innovative and high quality customer and stock products, Julie of California delivers positive results, backed up by a 100% satisfaction or your money back guarantee.
Julie of California always adds an imaginative touch to a broad spectrum of advertising and incentive promotions, and each design is thoughtfully recreated with great attention to details.
Personalized service administered by our dedicated staff along with skilled craftsmanship, 100% satisfaction guarantee, and competitive pricing, make Julie of California the first choice for all your award, recognition, & speciality needs.
Please contact us by phone at (800) 423-9200, or email us at sales@julieofcalifornia.com.
We do not sell direct to the public.
We only sell through Promotional Products Distributors.
Color Keys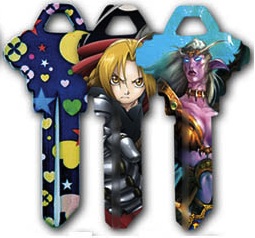 Colorful solid brass key blanks imprinted on both sides with your customer's design.
Durable double-baked finish is perfect as a memento or promotional item.
We offer QuikSet (KW) and Schlage (SCI) key blanks. Other styles and shapes available.
Please call for a quote. Delivery in 3-5 weeks.