Special Effects
Special Effects Options (P)
Add to Piece Cost from Pricing Table
Item
Description
Price
S-102
Black Dye Plating
10%
S-103
Black Gold / Silver / Copper
10%
S-104
Satin Gold / Silver / Copper
15%
S-105
Antique Silver Finish
20%
S-106
Antique Gold Finish
40%
S-107
Double Finish - Two Tone in Gold and Silver
25-50%
S-108
Each Additional Color Over 3 colors in Cloisonne Fill
$0.14
S-109
Additional Colors - Enamel Fill
$0.10
S-110
Backside of 2-Sided Design (without enamel fill)
20%
S-111
Back Stamping / Piercing
$0.10
S-112
Back Stamping Die Piercing Die or Stampmask
$50.00
S-113
Extra Cuttting Die - both with or without ring top ( except standard round size)
$30.00 - $50.00
S-114
Second Layout Change - Name, Date, Title, Etc.
$40.00 - $100.00
S-115
Colored Letters on Colored Background or Complex
Colored Design (Minimum Size 1/8" x 3/32")
25-50%
S-116
Epoxy Coating
5%
S-117
Inlaid Synthetic Stone
$0.70
S-118
Chemical Machining or Etching Through
AQ
S-119
Dapped / Curved / Domed Shapes
10%
S-120
Drill Hole
$0.08
S-121
Frosted Background
20%
S-122
Brushed Backside (per Sq Inch)
$0.08
S-123
Gold Finish Front side (Item D only - per Sq Inch)
12%
S-124
Adhesive Backing
$0.06
Personalized service administered by our dedicated staff along with skilled craftsmanship, 100% satisfaction guarantee, and competitive pricing, make Julie of California the first choice for all your award, recognition, & speciality needs.
Color Keys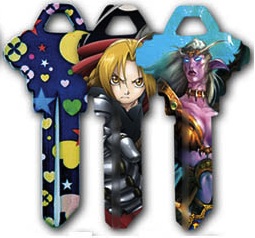 Colorful solid brass key blanks imprinted on both sides with your customer's design.
Durable double-baked finish is perfect as a memento or promotional item.
We offer QuikSet (KW) and Schlage (SCI) key blanks. Other styles and shapes available.
Please call for a quote. Delivery in 3-5 weeks.